New ways at C&H
Firstly, I would like to extend my sincere thanks to all our patients for being so patient with us during this time.
As lock down eases, I am planning our re-opening.
This is not a quick and easy job – I have spent weeks looking at the safest ways in which we can open our doors and start seeing our patients again.
Government Guidance
I am aware the Government Guidance is all non-essential shops can open from Monday – however, we are an essential service and we have to break social distancing rules in order to test the health of eyes and dispense spectacles.
As Optometrists we are a heavily regulated profession and we have additional steps in place to ensure the health and safety of our staff and patients.
The guidance which was sent out late last night (12th June 2020) is that as Optometrists we can continue to see emergencies and those deemed as requiring essential eye care, however we are currently legally not allowed to carry out routine eye examinations.
If you have an eye or vision problem, please call, we will take the details and one of our Optometrists will call you back and make an appointment if it is required.
Changes going forward
Appointment Only
Going forward all visits to the practices have to be by appointment only – this is not just for examinations, but for collecting spectacles, any adjustment and repairs and if you would like to choose new spectacles . This is to keep the number of patients in the practice to a minimum, to allow us to maintain social distancing and to also give us time to clean and disinfect after each patient.
To book all appointments please call:
Blackheath 0208 858 1858
Woolwich 0208 854 1491
The C&H ladies will arrange an appointment for you.
Its important that you keep to your appointment time – if you are late, we may have to re-book for another day. This is for the safety of staff and patients
If you have a face covering or a face mask, please wear to your appointment.
Please attend on your own where possible – its important we can always control the number of patients in the practice.
Vulnerable patients – If you are a patient who is classified as being in one of the vulnerable groups, please let us know and we will happily give you advice on the steps we have taken to ensure that your visit is as safe as we can possibly make it.
PPE – We have all the appropriate PPE, we are putting up our social distancing posters and signs and we are running through our new patient journey – we are taking it slowly to work out what is the best for staff and patients and refining it as we go along.
Some of the changes that you will see when you do come, and visit are:
Our door is always locked – this is to control the number of patients in the practice at any time to keep to the social distancing rules. As soon as you are by the door, a member of staff will be along to help you as soon as they can.
We will be running on reduced staff – this is for our own social distancing and to keep the staff in shifts to reduce the risk of infection between us.
Our appearance – we will still all be wearing our smiles – they may be hidden by masks, and we will be in scrubs, we may have additional eye protection in place and be wearing a plastic apron, some squeaky gloves but we are still the same staff and we are here to help you with all your eye care needs
Screens – we have some screens on reception – it is for safety all around – they may look like a barrier – but think of it more as a protector
Covid 19 Questionnaire – we need to check that none of the patients in the practice currently have Covid19 – therefore you will be asked each time you have to attend if you or anyone in your household has any signs or symptoms of Covid19 – should you have symptoms we are not allowed to see you – however we will do what we can to help you remotely during this time.
We will be doing more of our roles remotely – calling you before your appointment to reduce the amount of time you need to be in the practice – so for example if you are after some new spectacles, we will call you before you come in to chat through the type of look you want to achieve in your spectacles – are you a teacher who wants to look scary? Are these spectacles for post lockdown and hitting the night life?? We will also discuss the type of lenses that you would like – are you a computer use getting some eyestrain, how are you protecting your eyes in the sun? We have the solutions for all your eye care needs – we will still be offering you a great service we will just be doing this part differently by having a chat on the phone before you come in.
Once your new spectacles arrive, we will be calling you and arranging an appointment to collect – again this is for all our safety.
Payments – where possible we are encouraging patients to pay by card. We can also accept bank transfer, or you may set up a Direct Debit.
We know times are tough, so spreading the cost of your eye care is something we are more than happy to help with – please just ask and we can get this all set up.
Special offers. Hopefully you are already members of our fabulous loyalty scheme called C&H Club – this is free to join – we just require an email address and every time you purchase a new frame, you receive standard single vision lenses worth £50 free of charge.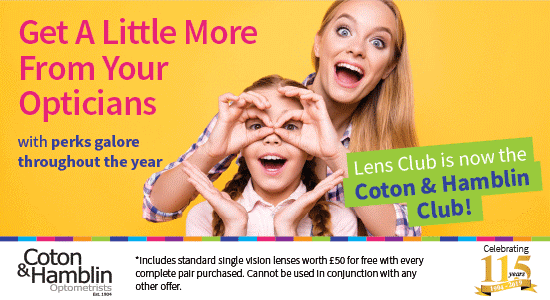 If lockdown has taught us anything the one lesson is "you need more than one pair of spectacles"
If you order a pair of spectacles which have the Essilor Crizal lens treatment which helps to reduce glare and offer clearer vision, then you can get your
second pair of lenses half price
even better is that you can spread the cost over 12 months by paying by Direct Debit.
The second pair offer ends 30th November.
Our Audiology service is also back up and running – if you would like your ears checked please call and ask for an appointment with Sarah
So, this is our first phase to get back into the swing of things.
Thank you for bearing with us and I will continue keeping you updated on how we are expanding clinics and changing as the lockdown changes.
Best wishes and stay safe
Jo & team at Coton & Hamblin.